Do you worry about your hair thinning?.
Are you ready to meet the holy grail?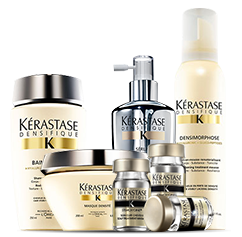 Kerastase Densifique promises 1700 NEW HAIR IN 3 MONTHS!!! Sounded to good to be true, however the Smiths team are head over heels with the range.
"When it comes to hair, most women have their own ideal, yet all dream of having silky-soft, thick and shiny hair. This is possible, provided that hair regeneration is activated to reveal hair that is invisible to the naked eye. ""Densifique"" targets the hair follicles (where the hair grows), making it the most scientifically advanced hair treatment that results in thicker, fuller hair."
Stylist tips – Densifique
"The excellence of its formula combines on one hand Stemoxydine, a molecule that noticeably increases the quantity of hair by square cm, and on the other hand a breakthrough complex of vitamins that coats the hair and gives it hold. I recommend the use of "Densifique" in salon so I can give application advices and offer a follow-up over the evolution of the treatment."
If you would like to know more or find your product perfect match pop in for a free product consultation with a member of our award winning team.
How?
Kérastase Densifique recreates an oxygen-deficient environment around stem cells to awake the bulbs that are asleep and recreate new hair. Deploys the full regenerating power of stem cells to increase hair density and Reveals up to 3000 new hair 3 months after the 1st application and up to 1700 new hair after 3 months vs placebo.